The Stock market in December of 2018 dropped enough to add it up to a stock market correction (worst stock market performance in month of December since 1931) due to investors sentiment fears of a slowdown in US Economy in 2019 even though companies fundamentals are still strong.
We at CFE Finances like to share technical data and markets comments with our bullish CFE Finances customers and fellow investors. When reviewing technical analysis, the chart below illustrates how the SPDR S&P 500 Index ETF has performed from 1996-2018 (Source: SeekingAlpha; A Market Bottom Could Be Near by R. Morwa).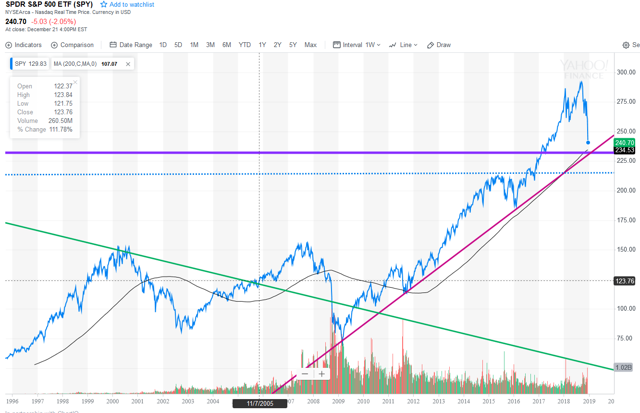 What this chart show us is a trend line (red line) from the stock market corrections in 2007,2011, 2016 to the end of 2018. The flat line in purple is the level of the SPDR S&P 500 Index ETF (SPY) 234.54 a 50% retracement line from 2016 lows that the trend line (red line) crosses. Again the red line shows within a line significant stock markets point drops from 2007- 2018. Also where the red line and purple line cross shows a very established trend line that is a major support level . It appeared to indicate a great buying opportunity is coming very soon because the blue line is slightly above it (R. Morwa). The green line shows a trend of decreasing volume on every significant pull backs since 2011. Also volume is shown at the bottom of chart. The blue line is the SPDR S&P 500 index ETF (SPY) at a point just above the (purple) flat trend line (3% to go to flat line). The author of the Seeking Alpha article pointed out that the bulls would not let the stock market drop to flat line because it would create a low that would cause a bigger selloff. Instead the author was correct the bullish day came the day after Christmas on December 26, 2018 after retails sales number was announced, the largest increase in 6 years that created the biggest point gain in the history of the Dow Jones Industrial Average up 1086 points, a 4.98% gain. There is a good chance for now this market correction of 2018 is over because bulls kept the SPDR (SPY 246.18) and other markets from dropping even further. Will the Santa Rally continue through the end of the year and into the New Year? Good chance it will. It is a great time to add great companies to your portfolio while they are on sale.
Congratulations for staying long in this treacherous stock market. This correction should take the markets to new highs. Dow 30,000 maybe in sight within the next 3 to 5 years. Although markets are very volatile due to uncertainty regarding the China trade war as well as possible higher interest rates in 2019, long-term investors will still have to be patience. Remember overtime stocks produce high profits for us as investors.
We need to all do our due diligence and review our stocks financial statement and make sure companies sales and earning are still increasing from quarter to quarter and year to year. A good place to review your stock portfolio is at your local library and read all the Valueline Surveys for stocks you owe and future stocks on your wish list.
Remember when you buy shares of a company, you own a piece of that company. The stock will appreciate in price when the company shows increasing sales and earnings which equals profit. Reinvest all of your dividends which will increase your shares over time while lowering your cost basis of your company shares.
Good luck and happy investing from CFE finances, we will be in touch with another newsletter soon. If you have any questions or concerns email us from our contact page.